XploRTM S-Seal and FS-Seal for High Pressure Sealing Applications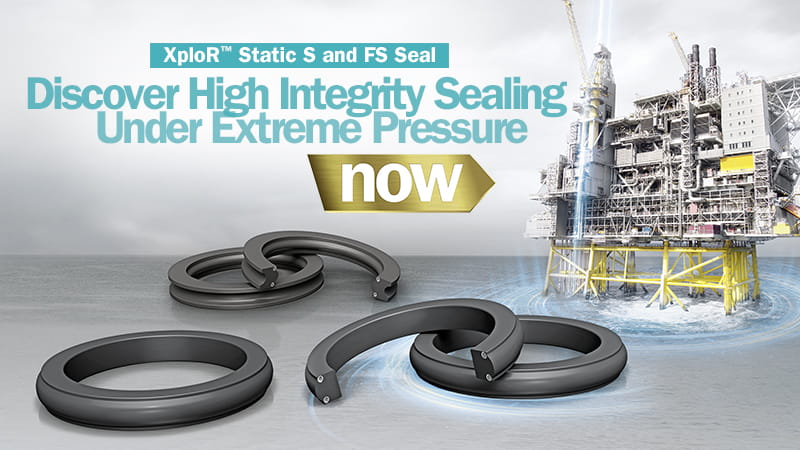 The oil and gas market is rebounding faster than anticipated and demand, in particular, for natural gas is expected to grow in the coming years. Trelleborg Sealing Solutions introduces two new products to meet the changing needs of this industry.
Eric Bucci, Technical Manager for Energy and Oil & Gas explains the significance of these seals: "Now more than ever, producing hydrocarbons is under extreme scrutiny and more reliable sealing products are required to recover oil and gas in a safe and responsible manner. Reducing emissions and protecting the environment is paramount and two new sealing products from Trelleborg allow our customers to comply with global industry goals and targets."
The XploR™ S-Seal and XploR™ FS-Seal have been specially designed to retain the flexibility of an elastomer seal, while enhancing the seal's extrusion resistance with the addition of two integrated anti-extrusion springs. In high temperature and pressure environments these seals offer bubble tight, leak-free performance, making these seals ideal for use in numerous oil and gas, chemical processing and chemical transportation applications.

>> Find out more about XploRTM S-Seal and FS-Seals

Save the date – register for our technical webinar

Trelleborg Sealing Solutions engineers and Oil & Gas sealing experts are hosting a free-to-attend technical webinar on November 16 to take an in-depth look at the XploR™ S-Seal and XploR™ FS-Seal.
Key take aways of the webinar include:
Discover how the new XploRTM S and FS-Seals can benefit you by simplifying installation and lowering total cost of ownership
Understand how these seals improve the safety of critical systems in high pressure and temperature environments
Learn how the flexible one-piece seal design optimizes sealing performance for leak-free applications
Find out about our high-performance XploRTM materials, which are compliant to relevant global industry standards


>> Register now for to save your seat at the webinar

A single seal for extreme pressure applications

The specially designed elastomer element offers gas-tight performance when unpressurized. During operation, the springs work with the pressure to increase the sealing effect. "As pressure in the system increases, the anti-extrusion springs are forced into the extrusion gap area providing a robust and reliable seal," explains Eric.
"Alongside effective sealing, these seals help our customers lower the total cost of ownership." Eric continues: "Frequently, in high pressure applications, a solution using multiple seals was needed to ensure effective sealing. The XploR™ S-Seal and XploR™ FS-Seal consolidate the functions several seals into a single one-piece replacement. This means there are fewer requirements for the hardware, such as additional installation grooves, and logistics and assembly are simplified, since there are less parts to handle."
Learn More

>> Find out more about XploRTM S-Seal and FS-Seals
>> Download the flyer XploRTM S-Seal and XploRTM FS-Seal
>> Contact us to discuss the S-Seal and FS-Seal for your high-pressure application