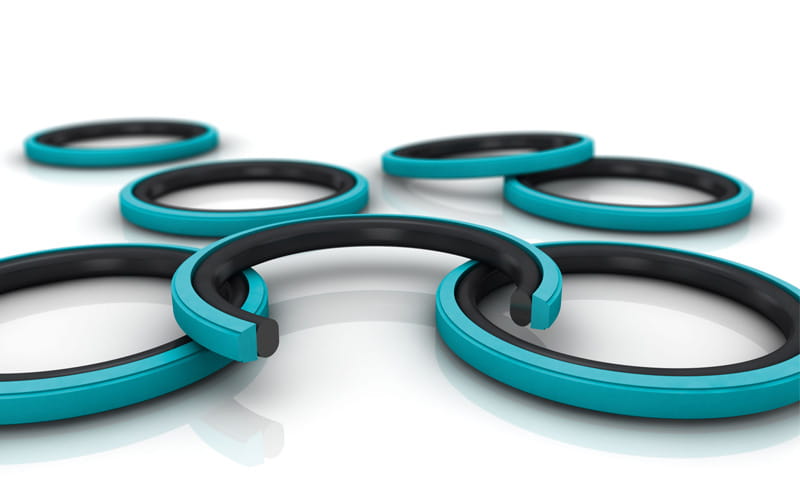 High sealing efficiency with low wear and long service life
High operational reliability with low friction and stick-slip-free operation
Simple groove design suitable for easy installation even in narrow grooves
Design flexibility – adaptable for almost all groove sizes
Custom designs available
Bidirectional seal
Very good static leak-tightness
Increased clearance possible of approximately 50 percent, depending on the operating conditions

Turcon® Glyd Ring® T and Turcon® Glyd Ring® are fully interchangeable.
Within the seal both lateral profile flanks are inclined so that the seal profile tapers towards the seal surface. The profile can thus retain the robust and compact form typical of piston seals without losing any of the flexibility required to achieve a pressure-related maximum compression.
The edge angle created by the cross-sectional form of Turcon® Glyd Ring® T permits an additional degree of freedom of movement and enables slight tilting of the seal. The maximum compression is thus always shifted towards the area of the seal edge directly exposed to the pressure. On the lower-pressure edge of the seal, the Glyd Ring® T exhibits only zones with neutral strains without compressive or shearing loads. This effectively reduces the danger of gap extrusion.
The Turcon® Glyd Ring® T is the recommended sealing element for double acting sealing for hydraulic components and is particularly recommended for heavy duty and large diameter applications.
Typical Oil & Gas Applications Include:
Parameters
Values

Operating Pressure

Up to 11,600 psi / 60 MPa

Speed

Up to 50 ft/s / 15.0 m/s

Temperature Range

-45 °C to +260 °C /
-49 °F to +500 °F
Dependent on elastomer

Media

Mineral oil-based hydraulic fluids, flame-retardant hydraulic fluids, environmentally-safe hydraulic fluids (bio-oils), water, air and others, depending on the elastomer material