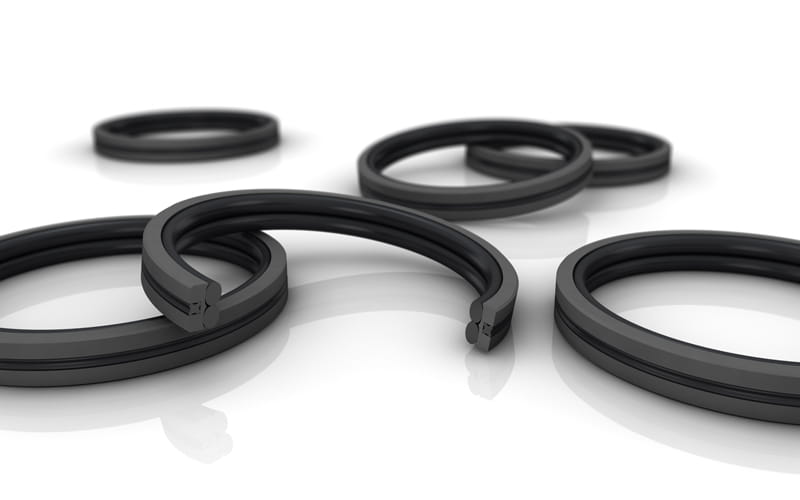 High sealing effect in applications requiring media separation
Double security through the combination of low-friction special materials with elastomer seals
Operates in higher pressures
Improved sliding speed compared to the AQ-Seal®
Outstanding sliding properties, no stick-slip effect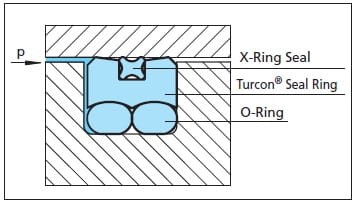 The Turcon® AQ-Seal® 5 is a development of the proven standard Turcon® AQ-Seal®.
The seal profile of the Turcon® ring has been redesigned on both the dynamic and static sealing surface.
The AQ-Seal® 5 combines the benefits of a low-friction Turcon® slipper seal with the high sealing characteristics of an elastomer seal. It does this by incorporating a limited foot print X-Ring on the dynamic sealing face. This optimizes leakage control while minimizing friction. In addition, two O-Rings are used as energizing elements to optimize the pressure profile.
The Turcon® AQ-Seal® 5 is designed specifically for heavy duty and large stroke applications. It is recommended as a sealing element in double acting applications.
Parameters
Values

Operating Pressure

Up to 8,700 psi / 60 MPa with hydraulic oil,
Up to 4,350 psi / 30 MPa for media with reduced lubricating properties, such as water glycol based hydraulic fluids.

Speed

Up to 9.8 ft/s / 3.0 m/s with reciprocating movements

Frequency

Up to 3 Hz

Temperature Range

-45 °C to +260 °C /
-49 °F to +500 °F
Dependent on elastomer

Media

Hydraulic fluids, mineral oil, synthetic and natural esters, gas, water glycol based fluids