Trelleborg To Showcase High Integrity Sealing Solutions At OTC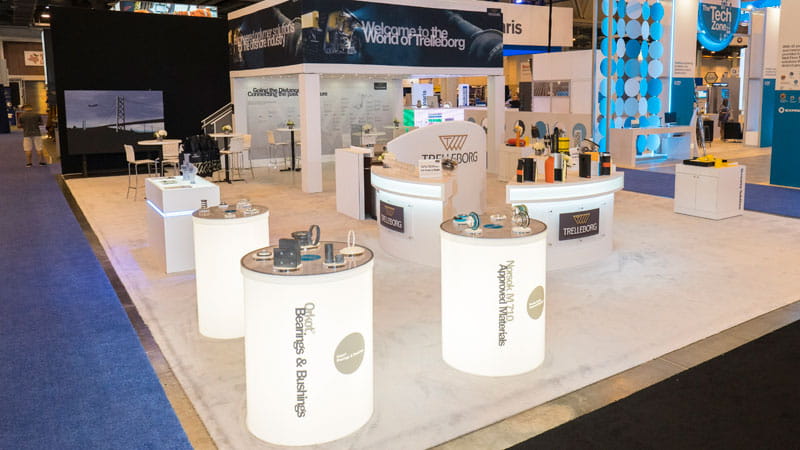 TRELLEBORG TO SHOWCASE HIGH INTEGRITY SEALING SOLUTIONS AT OTC
Innovative solutions for high-integrity sealing applications developed by Trelleborg Sealing Solutions are to be showcased at the Offshore Technology Conference (OTC) in Houston, May 6-9, 2019.
Visitors to the OTC show will be able to view the groundbreaking oil & gas technologies developed by Trelleborg's highly-skilled specialist engineers for the oil & gas industry.
Eric Bucci, Global Technical Manager, Oil & Gas for Trelleborg Sealing Solutions, says: "Innovations from Trelleborg Sealing Solutions continue to address the unique needs of the oil and gas industry by providing technically appropriate solutions coupled with industry knowledge and compliance to global standards. Our solutions drive our customers' competitive edge and provide the highest level of safety for the industry, environment, and personnel. By using the latest software analysis, as well as material and product testing, Trelleborg Sealing Solutions provides a leadership position relative to challenging sealing demands with the most comprehensive product and service portfolio on the market."
One of the products set to be unveiled at the four-day event, is the Medium-Duty Rotary Gate Valve, which was developed in conjunction with LB Bentley. LB Bentley specializes in creating small bore subsea valves for subsea applications.
The gate valve incorporates a custom version of the Trelleborg Sealing Solutions Turcon® Variseal® MC that demonstrates pioneering stem sealing technology that reduces the risk of contamination and failure. Trelleborg Sealing Solutions engineered the seal specifically for LB Bentley's compact and robust subsea valve and has already achieved field-proven success.

Other recent innovations from Trelleborg Sealing Solutions will also be on the booth, including:

The XploR™ range of sealing materials, an entire family of advanced elastomers especially developed for oil and gas applications, will also be shown at the conference. They all feature low compression set characteristics and were made specifically for oil and gas applications.

The latest addition to the Trelleborg Sealing Solutions product portfolio for the oil & gas industry, is the Metal End Cap Seal which was specifically engineered for High Temperature / High Pressure (HTHP) wellhead tubing and casing hanger sealing environments.

It offers the pressure and extrusion resistance of a metal-to-metal bonded component with the flexibility of an elastomer. Combining Trelleborg's proprietary XploR™ Rapid Gas Decompression (RGD) and sour gas-resistant elastomers with corrosion-resistant metal end caps, a customized sealing solution can be developed that meets specific oil field requirements.

For further information on any of these innovations or to talk to Trelleborg Sealing Solutions customers should visit booth 3239 at Offshore Technology Conference in Houston, May 6 - 9, 2019.