Oil & Gas - NEWS Swivel Stack Seal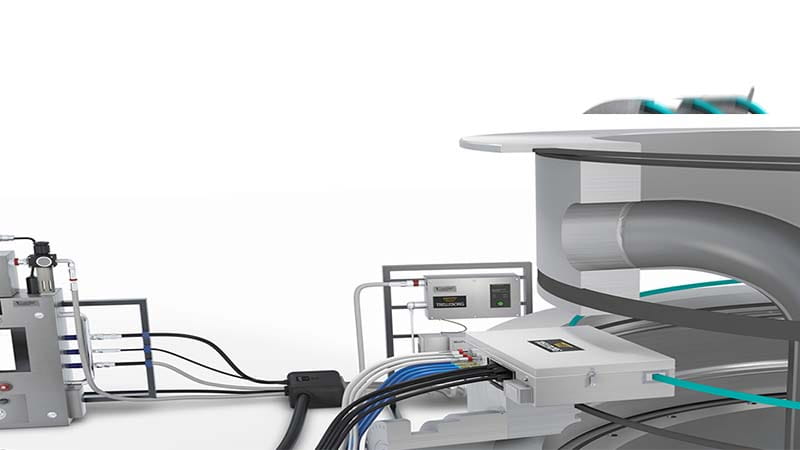 Trelleborg Unveils Dedicated Swivel Stack Seal Inspection Facility
Trelleborg Sealing Solutions has opened a dedicated climate-controlled swivel stack seal inspection facility for the validation of bespoke seals.

The global facility is based in Barendrecht, in the Netherlands, and has been unveiled in a move to help ensure Floating Production Storage and Offloading (FPSO) operators achieve the highest possible standards in seal quality.

The facility provides a temperature-controlled environment to avoid fluctuations in the dimensions of the seals caused by temperature changes, with specialist storage racks allowing the seals to be acclimatized prior to inspection.

A bespoke inspection table has been installed, on which seals up to 3000mm can be measured with special lighting to aid visual inspection.

Trelleborg's FPSO Focus Group, who are based on site, is made up of a team of experts trained to inspect the specialist seals.

Henk-Willem Sanders, Technical Manager Oil & Gas and FPSO Focus Group leader at Trelleborg Sealing Solutions, said: "Oilfield operators need to be confident about their equipment – if a seal fails during an operation this can lead to lost production revenues amounting to millions of dollars.

"The quality of seals for our customers is of the upmost importance and we are continually striving for excellence, which is why we have launched this dedicated seal inspection and validation facility.

"Typical FPSO seals are from 100mm up to 3000mm in large cross sections. The controlled environment in combination with the fact that large diameter seals can be inspected, gives our customers unrivalled reassurance when selecting a seal partner."

Trelleborg Sealing Solutions will be exhibiting at Subsea Expo 2016, which takes place at Aberdeen AECC from February 3 to 5, on stand 52.