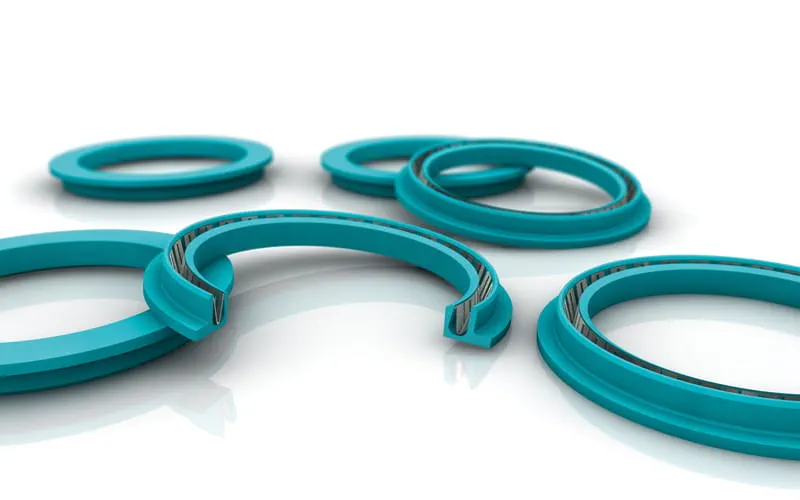 Suitable for rotary, reciprocating and static service
Remains tight in the groove even when subject to oscillating or helical movements
Low coefficient of friction
Protects against mechanical torsion
Good scraping effect
Stick-slip-free operating for precise control
High abrasion resistance and dimensional stability
Withstands rapid changes in temperature
Protects against mechanical torsion
Excellent resistance to aging
Unlimited shelf life
Unidirectional seal
Anti-rotation flange secures seal in hardware
Turcon® Roto Variseal® is excellent in rotary, reciprocating and static applications, when there is a need to lock the seal in the groove. The standard Variseal® for rotary applications, Turcon® Roto Variseal® is a single acting seal consisting of a U-shaped jacket and a V-shaped corrosion resistant spring.
Turcon® Roto Variseal® has a flanged heel, which prevents the seal from rotating in the groove and a short heavy dynamic lip that reduces friction. This gives a long service life and good scraping ability, even in media of high viscosity.
Typical Oil & Gas Applications Include:
Rotary shafts on general hydraulic applications
Rotating and pivoting arms
Gearbox shafts
Drive shafts on ROV's
Rotary BOP applications
Rotary hydraulic manifolds
Rotating heads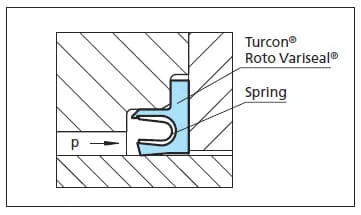 Parameters
Values

Operating Pressure

Maximum dynamic load: 2,175 psi / 15 MPa
Maximum static load: 3,626 psi / 25 MPa

Speed

Reciprocating up to 33 ft/s / 10 m/s
Rotating up to 6.5 ft/s / 2 m/s

Operating Temperature

-70 °C to +260 °C /
-94 °F to +500 °F

Media

Virtually all fluids, chemicals and gases