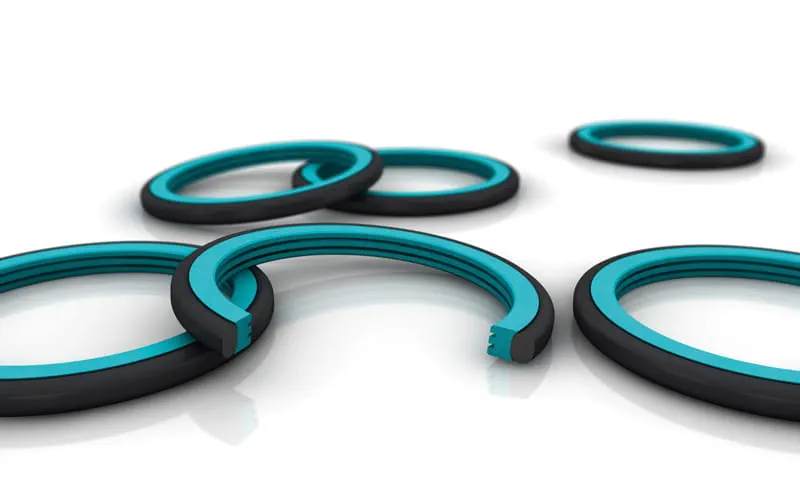 Available for rod or piston sealing applications
For use at high-pressure and low rotary speeds
Low friction
Stick-slip-free starting
High abrasion resistance and dimensional stability
Simple groove design, narrow space-saving groove dimensions
Lubricant reservoir
Available in a wide range of standard and custom sizes
Unidirectional or bidirectional seal
The double-acting Turcon® Roto Glyd Ring® is used to seal rods, shafts, axles, bores, rotary manifolds, journals and swivels with rotary, helical or oscillating movement. It consists of a seal ring in high-grade Turcon® material activated by an elastomer O-Ring.
The contact surface profile of the seal ring is specially designed for use at high-pressure and low sliding speeds.
Depending on the cross section profile of the seal, the contact surface has one or two continuous machined grooves. These improve seal efficiency by increasing the specific surface load pressure against the sealed surface. They also form a lubricant reservoir and reduce friction.
In order to improve the pressure activation of the O-Ring, the Roto Glyd Ring® has notched end faces as standard. The rear face which holds the O-Ring has a concave form. This increases the surface and prevents the seal from turning with the rotating surface.
Typical Oil & Gas Applications Include:
Core cutting equipment
Rotary unions
Rotary tables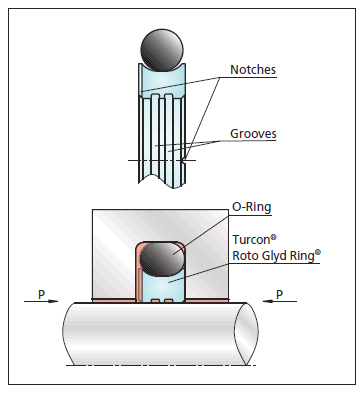 Parameters
Values

Operating Pressure

Up to 4,000 psi / 27.5 MPa

Speed

Rotating up to 6.5 ft/s / 2 m/s

Operating Temperature

-45 °C to +260 °C /
-49 °F to +500 °F
Dependent on elastomer

Media

Mineral oil-based hydraulic fluids, flame-retardant hydraulic fluids, environmentally-safe hydraulic fluids (bio-oils), water and others, depending on the elastomer material