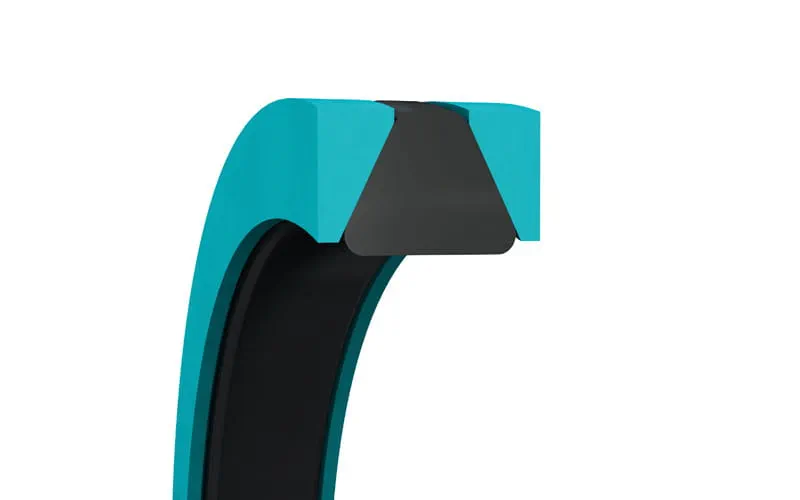 Good static and dynamic sealing effect
Excellent stability of the elastomer element in severe working conditions
Unidirectional version for applications where there is pressure from one side only
Low-friction, high efficiency
Leak-tight reliable sealing performance
Easy installation
Extrusion protection version operates in higher pressures and larger clearances
Sizes to suit all O-Ring grooves including AS-568 and ISO-3601 seal sizes
Turcon® Wedgpak® consists of a proprietary triangular elastomer element supported by two delta shaped Back-up Rings.The delta-shaped Back-up Rings of Turcon® Wedgpak® prevent the elastomer element from spiraling or rolling under severe working conditions.
The optimized elastomer contact area of Turcon® Wedgpak® design results in a slipper seal-like performance with low static and dynamic friction. At the same time, the elastomer wipes the surface efficiently.
An outstanding load profile is the result of seal squeeze combined with the angles of the elastomer and Backup Ring in the Unidirectional Wedgpak®. This gives effective fluid-film control and gas sealing in low and high-pressure systems.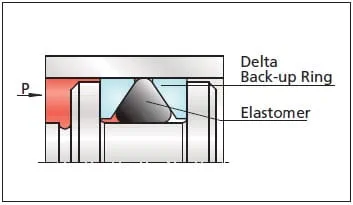 Turcon® Wedgpak® CR is a version that provides superior extrusion protection at pressures above 5,000 psi / 35 MPa.
Turcon® Unidirectional Wedgpak® consists of a delta shaped elastomer and a single delta shaped Backup Ring. This design is used in applications with unidirectional pressure (pressure from one direction only) and provides leak-tight performance in both static and dynamic applications.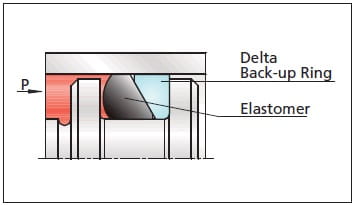 Parameters
Values

Operating Pressure

30,000 psi / 207 MPa

Speed

Up to 9.8 ft/s / 3.0 m/s or higher for non-continuous or intermittent use

Temperature Range

-45 °C to +260 °C /
-49 °F to +500 °F
Dependent on elastomer

Clearance

As per AS-568 and BS - 1806 seal sizes. Larger clearances for Turcon® Wedgpak® CR

Media

H2S, CO2, Amines, Hydrocarbons, mineral oil, drilling mud, sea water and glycols depending on elastomer