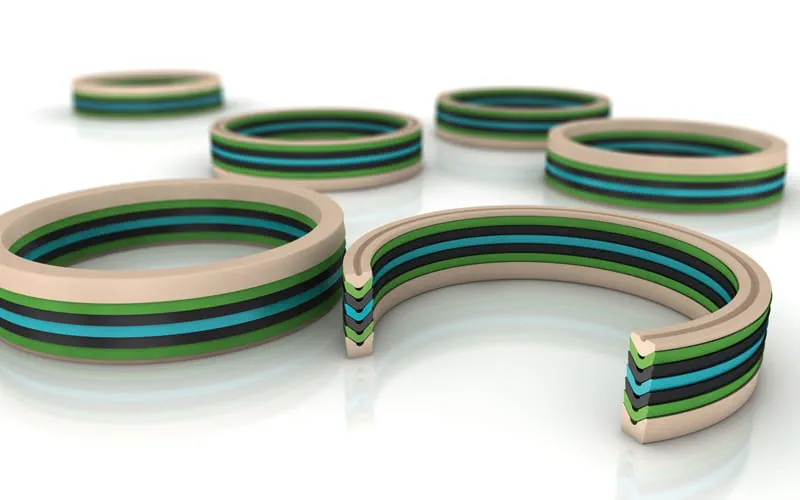 Very robust seal
Multiple sealing lips for positive seal
Easy replacement in the field with split rings
Extensive range of sizes
Can be used with poor counter surfaces
Operating temperatures of -49°F to +500°F / -45°C to +260°C depending on the elastomer
Compatible with virtually all media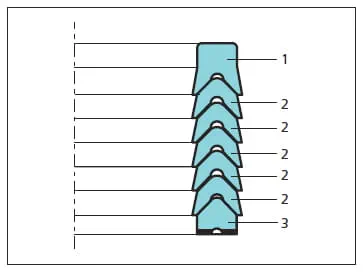 The V-Stack seal assembly is made up of a nest of Chevron rings comprising a top adapter or anti-extrusion ring (1), Vee Rings (2) and a bottom adapter (3). In the assembly the energizing axial force is transferred between the individual packing rings so that each ring is pressed into positive contact with the mating hardware surface. Special material grades are available for a large variety of working conditions.
The top adapter or anti-extrusion ring is manufactured from a high modulus plastic, typically PEEK™, to resist extrusion. This component supports the Vee Rings, providing stability and extrusion resistance.
In the standard version Vee Rings are made entirely of Turcon® or combinations of Turcon® and elastomers (Isolast®, XploR™) to give good resilience, sealing efficiency and extrusion resistance.
Due to their specific design, Vee Rings are sensitive to fluid pressure variations, enabling them to deflect throughout their radial section, increasing the seal loading and effectiveness in proportion to the pressures applied.
The bottom adapter ring is manufactured from PEEK™ or PTFE. The function of this component is to ensure a uniform pressure distribution.
Typical Oil & Gas Applications Include:
Sub surface safety valves and valve stem seals
Polished bore receptacles
Sliding sleeves
Download the Turcon® V-Stack Flyer
Parameters
Values

Operating Pressure

Up to 30,000 psi / 207 MPa with custom components

Speed

Up to 3.3 ft/s / 1.0 m/s depending on material

Temperature Range

-45 °C to +260 °C /
-49 °F to +500 °F
Dependent on material

Media

Drilling mud, downhole fluids, seawater, hydraulic fluids including water glycol based fluids
Please contact your local Trelleborg Sealing Solutions marketing company.