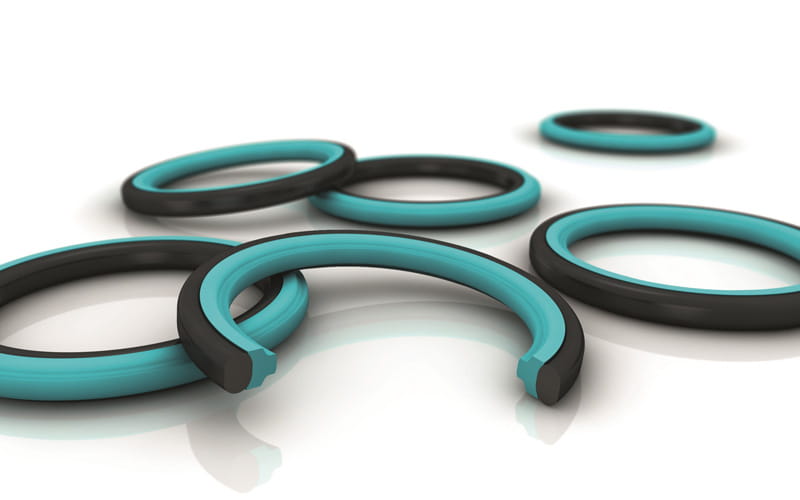 Same functionality as Turcon® Glyd Ring® for linear, helical and rotary service
Protected from diameter variations of counterpart
Passes over holes in mating surface
Increased sealing effect and reduced friction due to narrow contact area
Simple installation and easy mounting in split groove
Suitable for narrow grooves
Design flexibility – adaptable for almost all groove sizes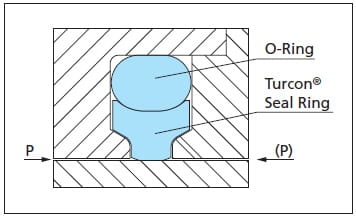 The Turcon® Captive Glyd Ring® is the best option in applications in which the seal has to slide across mating surfaces that have dimensional changes (e.g. go from a small diameter with sealing function over the seal to a large diameter with no sealing function or vice versa).
Normally, Turcon® Glyd Ring® is usually recommended as a bidirectional seal for all types of pistons and grooves.
However in some applications, in which the Glyd Ring® has to slide across mating surfaces that have dimensional changes, the seal can potentially be deformed, damaged or destroyed, as they may be pressed out of the groove by the O-Ring or the system pressure.
This Turcon® Captive Glyd Ring® version, shown this drawing, is retained in a split groove. The groove prevents the sealing surface from getting damaged by a counter part with variable diameter or when passing holes.
Parameters
Values

Operating Pressure

Up to 8,702 psi / 60 MPa

Speed

Up to 50 ft/s / 15.0 m/s

Frequency

Up to 5 Hz

Temperature Range

-45 °C to +260 °C /
-49 °F to +500 °F
Dependent on elastomer

Media

Mineral oil-based hydraulic fluids, barely flammable hydraulic fluids, HFC, environmentally safe hydraulic fluids (biological degradable oils), water, air and others. Depending on compatibility of the O-Ring material.