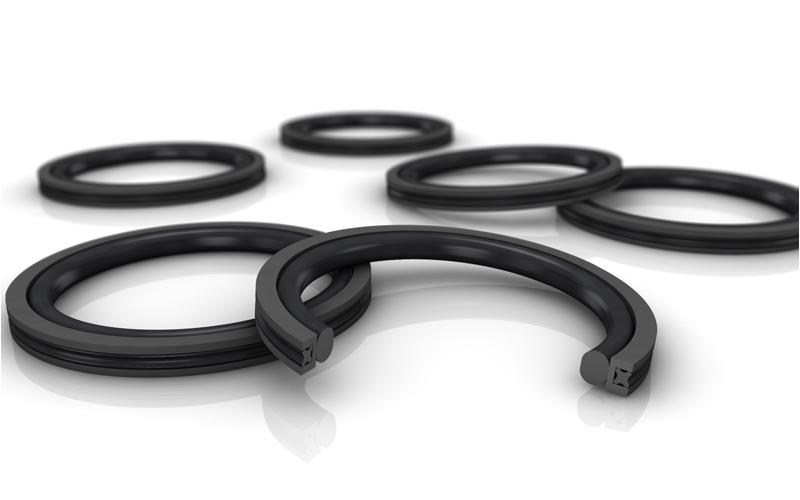 Combines the benefits of a low-friction Turcon® slipper seal with the high sealing characteristics of an elastomer seal
High sealing effect in applications requiring media separation, fluid/fluid or fluid/gas
Low gas permeation rate
Double security through the combination of low-friction special materials with elastomer seals
Simple groove design, small installation space, interchangeable with Turcon® Glyd Ring®, Turcon® Glyd Ring® T and Turcon® Stepseal® 2K
Capable of operating successfully at higher pressures and sliding speeds
Outstanding sliding properties, no stick-slip effect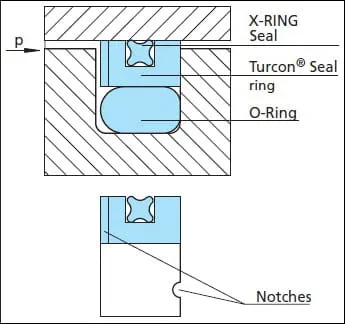 The Turcon® AQ-Seal® is a double-acting seal consisting of a seal ring of high-grade Turcon® material, an X-Ring and an O-Ring as energizing elements. The Turcon® seal ring together with the X-Ring perform the dynamic sealing function, while the O-Ring performs a static sealing function.
The AQ-Seal® is supplied as standard with radial notches on both sides. These ensure direct pressurizing of the seal under all operating conditions.
Typical Oil & Gas Applications Include:
Hot stab connectors
Piston accumulators
Heavy duty tensioner cylinders
Parameters
Values

Operating Pressure

Up to 7,251 psi / 50 MPa with mineral oil and gases. Higher pressures can be achieved by using corner reinforcements.

Speed

Up to 6.6 ft/s / 2.0 m/s with reciprocating movements

Frequency

Up to 5 Hz

Temperature Range

-45 °C to +260 °C /
-49 °F to +500 °F
Dependent on elastomer

Media

Hydraulic fluids, mineral oil, synthetic and natural esters, gas